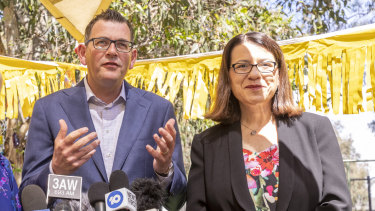 Students will also get their own free dental packs under the program which, according to the government's modelling, will save families about $400 a year per child and free up 100,000 places for adults in the public dental system.
The commitment fulfils a promise Premier Daniel Andrews took to November's Victorian election, amid calls for both sides of politics to do more to tackle dental waiting lists.
According to the state branch of the Australian Dental Association, the average waiting time for dental care in Victoria was 20.3 months (as at June 2018) while the longest waiting time was about 42 months.
"Kids' oral health is so important, but busy families can often struggle to find the time to get to the dentist. We're fixing that," said Mr Andrews.
But while many families will welcome the $321.9 million policy, others are likely to raise concern that almost 348,000 students enrolled in private schools will not see the benefits.
Asked why Catholic and independent schools had missed out, the government said it would review the roll-out with a view to extending the policy to low-fee private schools.
However, it also admits that the full fleet of about 250 vans will take about three years to implement across every state school, while about 500 dentists, oral health therapists and dental assistants will also be needed to staff the vans, requiring universities to ensure they are training enough allied professionals.
Nonetheless, the return of free school dental will be seen by many as important public policy given oral disease is one of the most common and expensive diseases to treat – but it is also the most preventable.
At present, only a few vans operate, mainly for outreach services in country Victoria or in specialist schools, because most of the fleet has been decommissioned over successive decades.