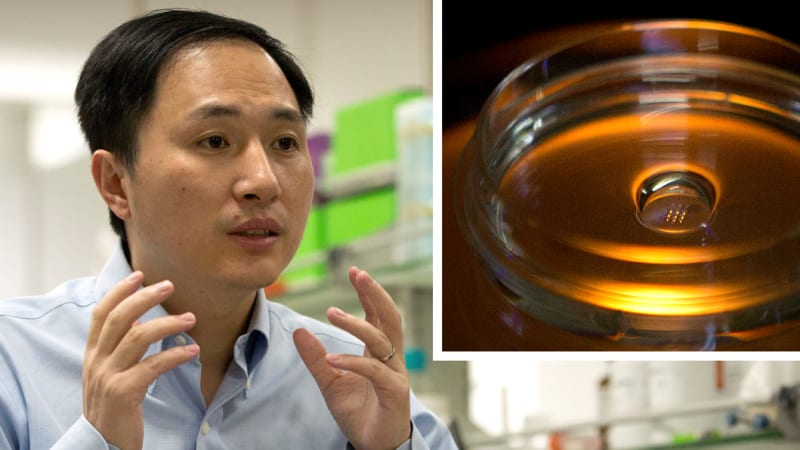 Probe underway
The Harmonicare hospital is now organising a "crisis response" to the news in an attempt to verify what happened, said Cai. "I think it needs to get approval from the government," he said. "This kind of big thing, I don't think any hospital would do this ahead of time without getting any government approval."
A woman answering the phone at Harmonicare's investor relations office said a probe was underway. "We are currently in the midst of internal investigations on this matter," she said, without giving her name. The ethics committee of Shenzhen's Health and Family Planning Commission said it was not informed of the experiment and is now launching an investigation, Chinese media including news service Yicai reported.
China's National Medical Products Administration, which regulates drugs and medical devices, has not publicly commented on the case and did not immediately respond to faxed questions Monday. The Chinese government has also not commented on He's claims.
A listing for the clinical trial on a public database appeared to show a form stamped by the Shenzhen Harmonicare hospital, although that couldn't be independently verified.
'Serious violation of academic ethics'
The Southern University of Science and Technology said in a statement posted on its website that it was "shocked" at the news and that He has been on unpaid leave since February. The university administration and the biology department, which He is a member of, had no knowledge of He's experiments, it said.
The school said it views this as a serious violation of academic ethics and regulations. "We are appointing independent experts for a deep investigation into this matter," it said.
"Southern University of Science and Technology strictly requires scientific research to conform to national laws and regulations and to respect and comply with international academic ethics and standards," it said.
'I am willing to take the criticism'
Reached for comment on the university's statement, He said he had been on voluntary leave for several years to focus on his research, without specifying dates.
In the videos, the scientist defended his work, saying in one: "I understand my work will be controversial, but I believe families need this technology. And I'm willing to take the criticism for them."
In an earlier email to Reuters, He said that he planned to share data about the trial at a scientific forum this week. He said he planned for it to also go "through the peer review process, and through a pre-print soon." A pre-print is a publication of findings made before the research is published in a peer-reviewed journal.
In an earlier telephone interview and emails with Reuters, He said he was aiming to bestow on the gene edited babies "lifetime protection" against HIV, the virus that causes AIDS.
He said he began his work in the second half of 2017 and enrolled eight couples. All of the potential fathers involved were HIV-positive. Five chose to implant embryos, including the parents of the twin girls, identified only by the pseudonyms Mark and Grace. The babies' names are Lulu and Nana, He said in one video.
CRISPR-Cas9 is a technology that allows scientists to essentially cut-and-paste DNA, raising hope of genetic fixes for diseases. However, there are also concerns about its safety and ethics.
In April 2015, scientists at Sun Yat-sen University sparked a global controversy after they published results of an experiment that used CRISPR-Cas9 to edit the genes of non-viable human embryos.
'Monstrous'
News of the experimental treatment prompted fierce criticism from experts online. The procedure was "unbelievable and unacceptable," Li Jingsong, a cell researcher at the China Academy of Sciences, said on WeChat.
"If true, this experiment is monstrous," said Julian Savulescu, director of the Oxford Uehiro Centre for Practical Ethics at the University of Oxford.
"These healthy babies are being used as genetic guinea pigs. This is genetic Russian Roulette," he said.
China has rapidly deregulated its health-care industry since 2016 in response to growing demand from its population for quality healthcare. Approvals for clinical research could take years but beginning in July the government began allowing trials after 60 days of application if the National Medical Products Administration did not raise any objections in that time period.
The reform of the clinical-trial system unleashed a wave of new medical research in China, with both local and foreign scientists undertaking trials of techniques and medicines beyond what's currently being done in the US or Europe.
Bloomberg with Reuters