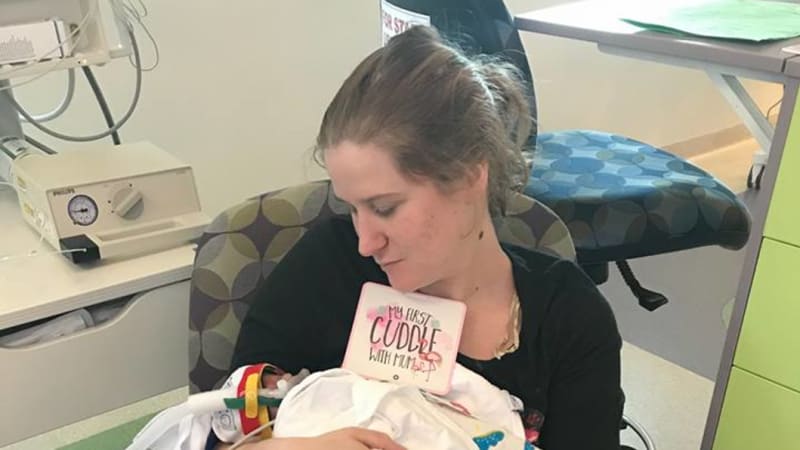 Detectives from the Child Abuse Squad said she attempted to poison her 13-month-old son on December 29, just five days after he was discharged from the Perth Children's Hospital.
Her baby was born 14 weeks premature and suffers from Pierre Robin syndrome, a condition which affects a baby's ability to breathe and eat and requires 24-hour care.
The boy required a feeding tube in his throat.
He was rushed to the Perth Children's Hospital to be treated for poisoning, but he has since been discharged.
Ms Lucas has faced a barrage of abuse on her Facebook page after news of the charges laid against her broke on Saturday.
Tracy Odgers, who said she was part of an online mother's group with Ms Lucas, said she had gone through pregnancy and birth with her and had remained in contact with her throughout.
"William has daily challenges which lead him to hospital most times", she explained in a Facebook reply.
She said she believed Ms Lucas adored both of her children and was a "good person, not a monster" but needed help.
"I'm so thankful William is OK but unfortunately he will have many more challenges to come […]."
Baby William had spent his life in and out of hospital and Ms Lucas regularly posted updates on his condition to social media.
On Christmas Eve Ms Lucas wrote that her baby had been discharged from hospital, calling it a "Christmas miracle".
"I am in tears after he was so sick Friday and Saturday that he needed to be admitted into hospital. Doctors think he had bronchitis. But has bounced back better than ever," she posted.
On December 28, just one day before allegedly attempting to kill her son, Ms Lucas posted pictures of her baby and his older sister at a local water park.
Friends commented on how healthy the boy was looking.
Pierre Robin syndrome is not a terminal illness and, according to resources from the Royal Children's Hospital in Melbourne, most babies outgrow the severe breathing problems as their airways grow.
Ms Lucas will front couret again via video link on January 21.
With Simon Etheridge and Matilda Boseley