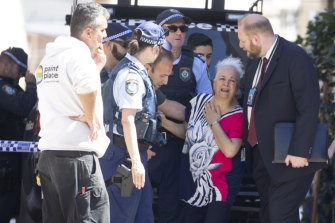 On Wednesday evening a large manhunt was underway for the alleged attacker who quickly fled the site by hitching a ride to Brighton-Le-Sands.
Police are conducting a large search operation to locate the suspect, a 49-year-old Russian national. He is described as being of Caucasian appearance, about 180 centimetres tall, with a large build and a shaved head.
He was last seen wearing a blue T-shirt, long blue work pants and brown work boots and may be carrying a construction helmet and a high-vis shirt.
"Do not approach the man. If you see this man, contact triple zero. We believe he is capable of a violent act," NSW Police Inspector Chad Deegenaars said, adding that the man was known to police and did not have a "fixed address".
More than 50 police were deployed in search of the man on Wednesday, including officers from all central metropolitan police area commands, the police dog unit, police air wing and public order and riot units.
Workers at the construction site downed tools on Wednesday afternoon when they heard cries for help from the basement level of the development about 1pm.
When police arrived at the work site they found the older man dead and his son suffering stab wounds, with a knife still in his back.
The younger Mr Metledge is the director of Metrix Developments. He was a distinguished student at Trinity Grammar, achieving the top band in four subjects during the HSC in 2003.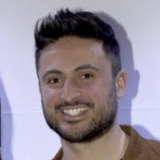 About 80 people are understood to have been working on the development. Police required the workers to evacuate as they set up a crime scene.
Rudy Arrage, the site manager for another residential development next door, said the stabbing had left him and fellow tradesmen in shock.
"There is blood everywhere," Mr Arrage told the Herald.
"Albert was a top bloke, a gentleman. It's such a shame," he said of Mr Metledge, whom he has known since working on the Princes Highway construction site.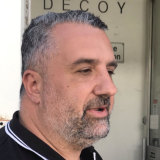 "It's very unfortunate. He was quietly spoken and very nice."
Inspector Deegenaars said it was a traumatic incident for co-workers, police and emergency services and the victims' family, some of whom arrived at the site visibly distressed when they learned what had occurred. "It's the worst news anyone can hear," he said.
Police are urging the public to avoid Short Street and Princes Highway at St Peters as they continue investigating the attack.
Do you know more? Email josh.dye@smh.com.au
Lucy Cormack is a crime reporter with The Sydney Morning Herald.
Josh Dye is a news reporter with The Sydney Morning Herald.