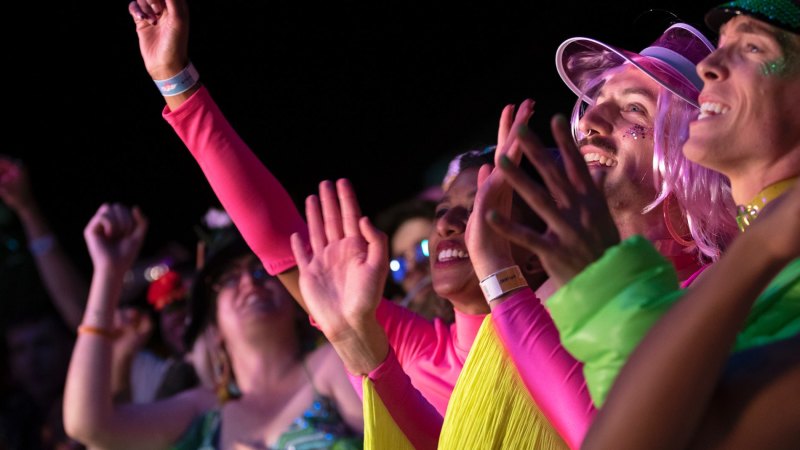 Melbourne singer Maribelle brought in the sunset on Friday night with her writhing single I'm A Mess Without You, followed by the raw energy and attitude of Wiradjuri Filipino artist Moju Juju.
"You know the good thing about Gaytimes?" said Juju. "I can say what I want and feel like I'm amongst friends."
Friday night also featured two acts coming in hot from the recent Eurovision: Australia Decides competition. Ex-Killing Heidi star Ella Hooper was perhaps trumped by exciting electro-pop duo Electric Fields. Vocalist Zaachariaha Fielding brought the mood to fever pitch with bubbling anthem 2000 and Whatever (which was evidently robbed for the Eurovision win) as crowds dispersed to their tents in "Windsor", "Fitzroy" and "Brunswick", or partied into the small hours in the "Nighttimes" clubhouse.
The sun shone on Saturday over a rainbow of costumes paraded across the mountain, including but not limited to Kylie-style hot pants, reflective bum bags, lurid leggings, sequins, sparkles, glitter, aviation goggles, old-fashioned fans, parachute tracksuits, mesh singlets, romper suits, parasols, pleather, or nothing at all.
There was perhaps a debt owed to the legendary US festival Burning Man, with a dusty streak of hip-meets-hippy anarchy to proceedings.
An array of activities kept attendees entertained away from the main stage, including drag bingo hosted by two bawdy grannys and their downtrodden sidekick Caroline Springs, plus cabaret performances, political readings, a craft market, life drawing, yoga, speed dating and a gay youth choir singing a cover of Bardot's camp classic Poison.
"As a queer woman of colour, this feels like a very safe space with the world in the state that it is," said rising star Kira Puru as she kicked off the Saturday night line-up with her explosive song Molotov. Alt-pop outfit Flint Eastwood from Detroit closed the main stage with a thumping set before dynamic DJ CC:Disco! turned the clubhouse into a steam room.
"It's like a huge backyard party!" said someone wearing a NASA space suit to a friend wearing a Carmen Miranda plastic fruit headdress and six-inch wedge heels.
The aliens might be confused, but everyone at Gaytimes knew exactly why they were there: for an out-of-this-world weekend of hedonistic fun with like-minded souls.