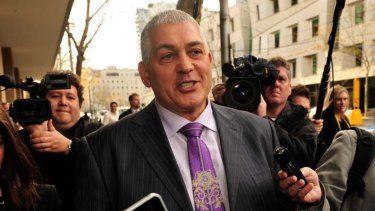 Mr Orman's conviction was the first to fall over the scandal, with the Court of Appeal finding his case was so tainted by her involvement that he was freed after 12 years behind bars.
The inquiry heard police wanted Mr Orman to "roll" on Mr Gatto, whom he had been a driver for.
Ms Gobbo told her handlers she needed to keep Mr Gatto, who she would act as a lawyer for, on her side.
"It's very important to her that he thinks she's loyal and staunch. She sees Gatto as very well connected and says she needs him to be able to refer clients to her … good for business," the handlers noted.
"She's never been exposed to that circle before – being the Carlton Crew."
She told her handlers Mr Gatto was paying for Mr Orman's defence and Mr Gatto had a source inside the gangland taskforce Purana who had told him that he was being investigated over two murders, the commission heard. Mr Gatto was only charged with the murder of Andrew "Benji" Veniamin, for which he was acquitted.
Ms Gobbo believed she was getting closer to Mr Gatto.
"He's admitted to being infatuated with her and really enjoying her company," the handlers recorded.
At one meeting, Ms Gobbo is alleged to have said: "When he gave her a hug she felt a gun in his pants, tucked into the back of his pants."
After another meeting, Ms Gobbo claimed Mr Gatto believed police were trying to use an informer on him.
"Little did he know they already had one," counsel assisting the commission Megan Tittensor said.
Inspector Boris Buick, who was the lead detective in the now problematic Peirce murder case, has this week been questioned in the inquiry.
Mr Orman's conviction was quashed because Ms Gobbo represented him at the same time she encouraged the key witness to give evidence against him.
Loading
Inspector Buick told the inquiry he did not know she was involved in the case as an informer.
Inspector Buick agreed Ms Gobbo had mentioned the "notion of tainted evidence" to him in 2011 when she was a potential witness for Taskforce Driver, which investigated the prison murder of Carl Williams.
"When you became aware of tainted evidence in relation to Mr Orman's case, did you do anything about it?" Ms Tittensor asked on Wednesday.
"No," Inspector Buick replied.
The inquiry has heard it was Inspector Buick who appeared to have first sought legal advice about Ms Gobbo's informer role after his dealings with her in 2011.
Tammy Mills is a Crime Reporter for The Age.