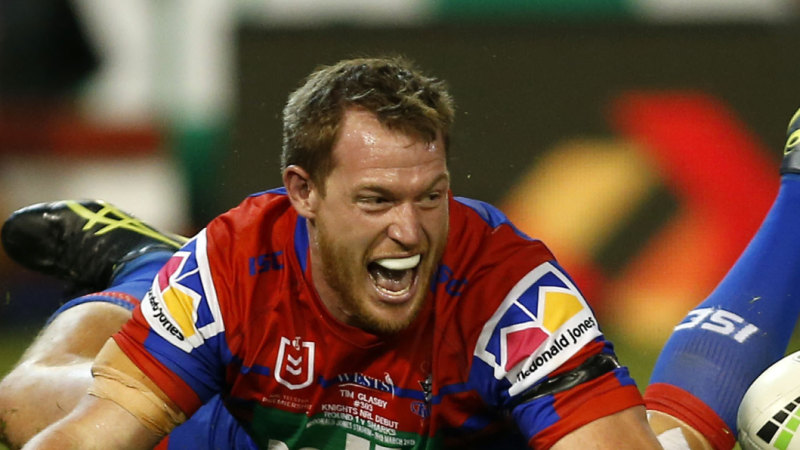 "I had a club car in Melbourne as well but in Newcastle they have a bit of signage on them so I was driving and there was people cheering me as I drove down the street one day," Glasby said with a laugh.
"That was a bit funny. In Melbourne we didn't have signage on the car and very few people would notice.
"Here people recognise you when you are having a coffee or at the shops but it's really good, the people here are great and support the team well.
"It's been a different feel because of that but it's been enjoyable still. It's been a good change for us."
Glasby has made a strong impression on the field starting at lock for much of the season and filling in as a prop.
The Knights had some struggles early but have burned in recent weeks behind the form of star half-back Mitchell Pearce and Queensland back Kalyn Ponga.
"Pearcy is in some great form at the moment and as a team we have settled a bit," Glasby said.
"Watching Kalyn do what he does is incredible, he's a special talent and a good fella too."
The Knights sit in fifth place and on Saturday face the top-of-the-ladder Storm at AAMI Park, for Glasby it will be his first chance to face his old club and his family are making the trip as well to catch up with old friends.
"I got to do some pretty special things in Melbourne and made some great mates that I'll have for life," Glasby said.
"I'm looking forward to running out on AAMI Park, it will be a bit strange going into a different dressing shed and warming up at the other end but I'm looking forward to the test too.
"From the moment I knew I was leaving Melbourne I was wondering how on earth I'm going to tackle big Nelson [Asofa-Solomona]. I still haven't figured it out.
"I've never played against them. It will be very different but it should be fun."
While Glasby will rip in like he does every week, he looks forward to meeting up with some of his old teammates post game as he values his footballing friendships.
"My wife has made a bit of a weekend out if it and I'll prepare as usual for the game then catch up for a beer with a few of them after the game," Glasby said.
"Hopefully I will be in a better mood than them."
The Storm host Newcastle Knights at AAMI Park on Saturday at 3pm.
Roy Ward is a Sports writer for The Age.