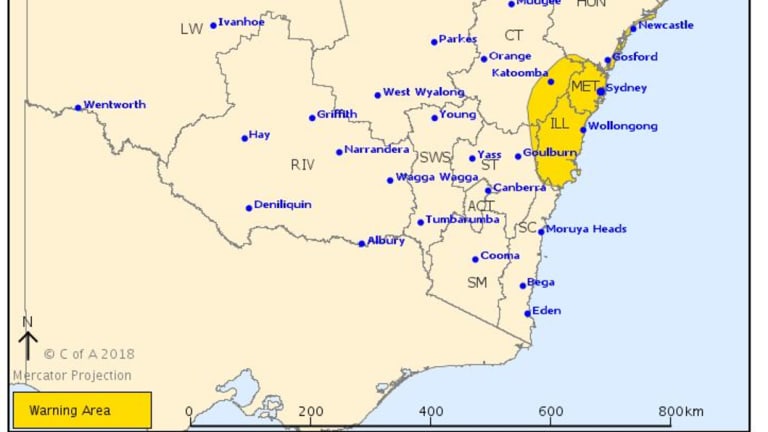 For now, the bureau is forecasting 60-120 millimetres to fall on Sydney's Observatory Hill, with Campbelltown looking at 90-150 millimetres and Penrith 60-120 millimetres.
Loading
Wollongong could also cop as much as 150 millimetres with totals easing further down the coast. Nowra, for instance, may receive 70-100 millimetres, the bureau said. Blue Mountains towns such as Katoomba are likely to collect 60-90 millimetres.
"There could be a slight break in the late afternoon," Mr Hough said. "But then [the rain] could pick up again in the evening."
Authorities are gearing up for a disruptive day, with the bureau and the NSW State Emergency Service scheduled to hold a noon media conference on Tuesday to detail their plans.
The bureau has already issued an initial flood watch for rivers between the Illawarra and the Central Coast.
Along with the rain, damaging winds are likely, with wind speeds averaging 60 to 70 km/h and gusts peaking above 90 km/h along the coastal Illawarra and Sydney fringe from late Wednesday morning, the bureau said.
These conditions will extend to the Central Coast and the Hunter coastal fringe during Wednesday evening, it said.
Winds are likely to shift from easterlies to southerlies by the evening, Mr Hough said.
The chance of flooding will increase if there are thunderstorms. For Sydney, there is a chance of storms in the morning and afternoon.
Rainfall should extend a fair way inland, bringing some drought relief for parched regions of the state.
Coastal erosion may be a feature of this week's wild weather.
Hazardous surf conditions are forecast for Wednesday for the Sydney and Illawarra coasts, with the bureau warning against rock fishing, boating and swimming.
Peter Hannam is Environment Editor at The Sydney Morning Herald. He covers broad environmental issues ranging from climate change to renewable energy for Fairfax Media.