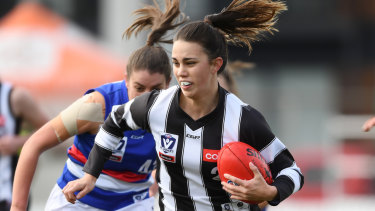 "It didn't allow us enough time to dissect the CBA, give our opinions and thoughts on it. We are just going to keep pushing and see how much wriggle room [there is] for change.
"We're not oblivious to the fact that AFLW isn't profiting just yet. We want growth as much as they do. We understand yes, participation rates are going up but the AFL is a business and business equals dollar signs. We need to have that revenue coming in. That's what we want to change. We want money coming in. We want to grow our game and sustain the growth.
"Then again, for the hours that we put in we need to get back what we deserve."
Melbourne star Daisy Pearce told SEN on Wednesday morning that claims of a "crisis" were overblown.
Loading
"If there's murmurings of that [leaving the AFLPA], I'm not aware of it and I have sat in on all of these meetings across the last couple of weeks," Pearce said.
"Caroline [Wilson] is right in the sense that we've sought more time and clarification on the CBA that was presented to us a couple of weeks ago, but it is certainly not a crisis.
"We are working really, really closely with the AFLPA and each other. I think the playing group is as united as ever.
"It's not a crisis. I think they're big conversations and big decisions, but I think it's quite reasonable that we're coming to this place because it is a start-up competition.
"There would be players, I am sure, that maybe want things to happen faster and that's okay … there's always going to be varying degrees of an opinion."
Prue Gilbert, a member of the AFLPA's women's football advisory group, resigned from her role because she felt the union had not delivered a level playing field for men and women in football. The key grievance is that players want to play each team once, instead of the current conference system.
The Age reported that senior Australian human rights figures had told the players to seek legal advice on gender workplace fairness.
Pearce said she was not aware of players seeking advice on the CBA outside of the AFLPA, but Molloy said that was happening because the players wanted to be thorough.
"We just want to know what we can argue and what we can't argue. We are just seeking advice on that," she said.
Anthony is a reporter at The Age.