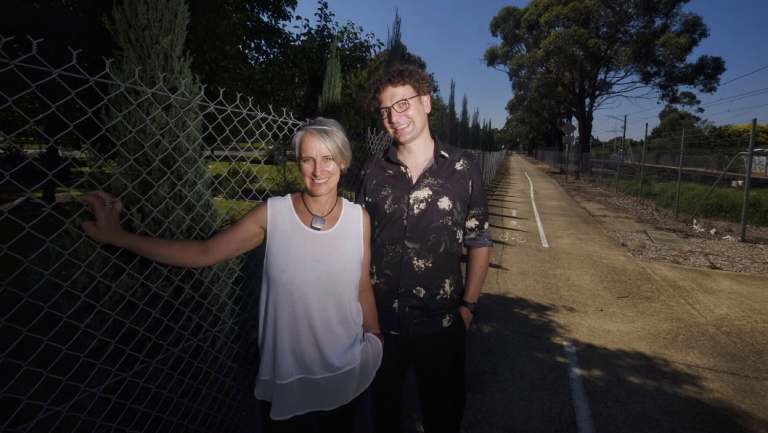 It borrows its name from a 17th-century book by Japanese poet Matsuo Bashō, whose work was inspired by travel. (It also happens to share its name with the Man Booker prize-winning novel by Richard Flanagan who also borrowed from Basho.)
Although some of the lines were written beforehand, most of the work was composed three to four words at a time, in the moment, inspired by the people they met and the scenes they observed – with a little inspiration from some community workshops.
"We wrote it as reflections on the day, creating stories from the people we met," Ms Thomas said.
"People have really loved it … reading as they were riding along on their bikes, some … undertaking to read the whole thing from beginning to end.
"The only complaint was that they had to ride slower to read the poem."
The vignettes from locals include a Greek man in Coburg who stops for a stretch and a joke on his daily walk.
"He is happy, he says, because the older he gets, the slower he walks [and] the further he stays from the cemetery at the end of the road," reads the poem.
One evening, a young couple look down from their townhouse balcony.
"They have wine glasses, they toast," reads the poem. "I wave at them, he waves back, she smiles."
The moment is now branded on the path close to the couple's doorstep.
Brunswick's infamous peak-hour cyclists also feature: "In the evening, the herd migrates back to the north, and it is hard to slow their momentum: a carnage hidden at every crossroad … I step aside to admire this wave."
Locals didn't only contribute through their interactions, but also their thoughts, with lines in Farsi, Arabic and Italian forming part of the composition.
An Iranian man, who now lives in Coburg, muses in Farsi about his hard life and journey to Australia before being welcomed into the suburb.
On the evening they used to write their last few sentences, the Brunswick couple found some words written for them on a note held down with rocks.
"Well done," said the stranger, "Only 10 [white lines] to go."
"And now the words are ending and so are the excuses," closes the poem.
Mr Angelucci, who is a linguist at the University of Melbourne said, as they reached closer to the end of the path and towards the cemetery, it was tempting to read into a deeper meaning.
"It became symbolic of every journey, including the journey of our existence," he said.
"There are moments when you can't tell a story anymore, when you have to face an ending."
Chloe Booker is a reporter at The Age.